Miss Universe 1999 1st Runner-up
Miriam Today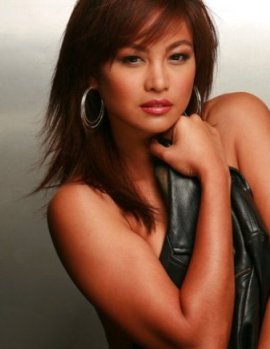 Every Filipino remembers Miriam Quiambao as the country's closest chance to the Miss Universe crown back in 1999. We all recall the way she glided effortlessly on stage in that sparkling one-shoulder Halston evening gown, poised and bursting with pride. She may not have won, but she did take home the pageant's first runner-up crown. Since then, Miriam Quiambao has become a celebrity through her public appearances and her foray into the world of broadcast journalism.
Miriam Quiambao upon returning to the country was awarded Outstanding Alumna for the field of arts and entertainment by her alma mater the University of Santo Tomas Institute of Physical Therapy.
Her current TV shows includes 100% Pinoy on Thursday Nights after Saksi on GMA7 and The BEAT on Monday Nights at 10:30pm on QTV.
Her product endorsements include Olay Total Effects Moisturizer, Clear Anti-Dandruff Shampoo, Mister Donut, Lactacyd, and Creamsilk.
Miriam appeared on the front cover of the August 2008 issue of Playboy Philippines.
She also has several advocacies which include the "Tulaan sa Tren" Program of National Book Development Board to promote Philippine books and literature; and World Vision which campaigns against child labor and helps children overcome trauma from natural disasters. (Updated 02/01/2009)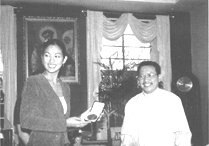 " If you're in another country, you feel proud of your country & the school you came
from… I refer to God as the center of my wisdom. I would like to thank the men &
women of UST for their support in my success. "
--- Miriam at UST Recognition Day
June 21, 1999, España, Manila









&nbsp